Wanting to search the internet? Google. How about online file storage? Dropbox. Need to check your grammar? There's Grammarly. Want to create or edit an image? Photoshop to the rescue. Sound familiar? Some services have become so popular that their very names have become verbs. Take, for example, "Google it." and "Photoshop it."
But, did you know there are great alternatives to many of these services? Some of the alternatives are more focused on your privacy, while others cost substantially less. Here are a few of our favorite service and software alternatives if you're looking for something a little different than the big players.
Search Engines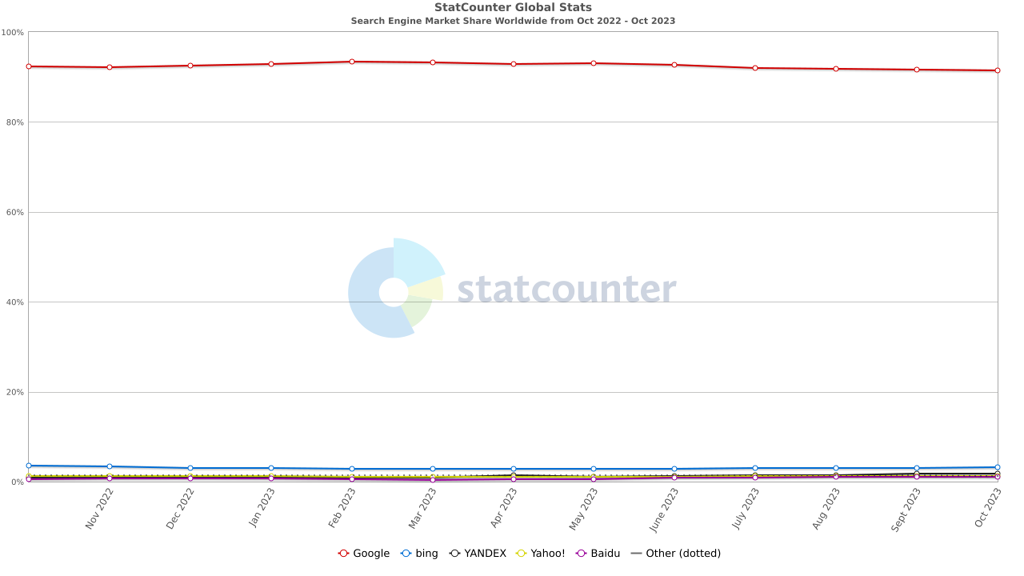 Google is by far the most used search engine. In fact, as of October 2023, StatCounter reported that Google has a 91% share in search engine usage. [Reference] I personally use Google – the company knows what their doing when it comes to cataloging data. But, for folks who aren't too keen on Google's privacy practices, there are alternatives.
DuckDuckGo is a popular search engine that focuses on user privacy. They have been around for a while, and their search results are really good. Most people who don't want to use Google will tend to migrate to DuckDuckGo. They also provide a plugin and app for private searches. Basically, they do not sell ads based on user data. I did a blog post on DuckDuckGo a while back, if interested.
The Brave browser is a popular alternative to the Chrome browser. It uses the same Chromium engine, but strips much of Google's tracking and claims to provider better privacy. The folks behind that browser created their own search engine called Brave Search. It's a new kid on the search engine block, but it's growing in popularity.
Honorable Mentions
Microsoft Bing, StartPage, Ecosia, and Yandex.
File Storage and Sharing
Dropbox is undoubtably the most popular file sharing service. It's been around for quite some time, and I would imagine more people use it than any other file sharing and storage service. We use Dropbox and are on their paid plans. It simply works. However, some are looking for solutions that may be less expensive, or provide better privacy options. If you're looking for alternatives, there are several to choose from.
If you are an Apple user, iCloud Drive is available. With their new advanced data protection, even files stored in their cloud are encrypted in a way that only you can decrypt them.
If you're already on the Google ecosystem, Google Drive is a fine alternative and offers a generous amount of space for users.
For those needing high privacy, SpiderOak is known for their great security and privacy through a type of encryption where only you have the keys.
Graphic Design Software
No doubt that Adobe leads the way when it comes to design software. Photoshop and Illustrator are industry standards. However, their subscription model easily takes a chunk out of your wallet. Here are some alternatives to Adobe's flagship products that offer similar capabilities and cost much less.
Affinity has quickly become one of our favorite applications. I got tired of paying Adobe's exorbitant subscription fees, and switched to Affinity's products. Quite frankly, I have not missed Photoshop or Illustrator. Affinity is also not subscription based. You pay once for the software and you're done.
If you're looking for a completely free tool for image design, GIMP has been around for a very long time. It may not be the most polished piece of software, but for a free, open source option, it is popular with many people.
Honorable Mentions
Pixlr, Pixelmator, Procreate, and Inkscape (Open Source).
Grammar Checking
Grammarly is probably the most used grammar checking software and extension for browsers. It works well and it integrates well. However, like most online tools, there are some good alternatives.
LanguageTool is one of my favorite grammar and spelling checkers. It claims to be more privacy aware, and I have found the tool to be just as good as Grammarly. Another plus is that is is open source.
What about AI for grammar?
Tread carefully dear reader. AI is cool, I get it. But, when it comes to having it re-write everything you've written, you run into all kinds of legal and ethical issues. Sourcing material generated by AI is difficult to do, and it's also extremely difficult to determine licensing for content. There are far too many horror stories revolving around AI generated content. For now, I would be very cautious using or depending on AI for anything related to business endeavors.
General Cool Software and Tools We Love
Ok, we've looked at some alternatives to the big boys, and now I want to list off a few of my top favorite software and tools in general. These are my "daily drivers" and some of which I would have a very hard time doing without. Without further ado, here are my picks.
I absolute love Raycast. It's a spotlight replacement on steroids. I immediately disable Apple's built in spotlight and use Raycast instead. Out of the box, it is packed with features, but there are also extensions that can add to the capabilities of this powerful launcher. Better yet, they have a free version as well as a paid one for those wanting a few more capabilities.
As a web developer, I have to deal with hundreds of account credentials. A good, solid, and secure password manager is a must for everyone. I gave 1Password a try, but found their subscription model discouraging and I didn't want to be forced to use their cloud to store my encrypted data. Strongbox offers the best options for me, as it allows me to choose where I store the data, and it's built on top of the keepass architecture.